New Year's Greetings
Jan.05.2018
As a dependable partner at your production site, we are determined to make all-out efforts to contribute to solving your problems with our latest products and technologies.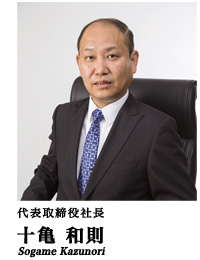 Happy New Year!
At the start of the new year, I would like to express my deep appreciation for your warm supports rendered to us last year.
Last year, Japanese economy saw gentle recovery backed by firm corporate earnings though it made an inauspicious start due to uncertainty of political management of U.S. new government and geopolitical risk surrounding Korean peninsula. Global economy in general also showed slow pick-up; for example, the economy in China and the rest of Asian developing counties seemed to bottom out owing to solid home demand and increased export to advanced countries.
When we reflect on the market situations for our products, demand for medium and large-sized Plastic Injection Molding Machines was increased last year both in Japan and overseas from the solid automotive and daily commodity sectors. We also enjoyed firm demand from IT and electronics appliance sectors in China and other Asian markets. Our Die-casting Machines also saw strong demand supported by solid automobile industry in Japan. We had increased demand for medium and large-sized Die-casting machines from China and Mexico.
Now, I would like to pick out some of our topics and business activities during last year.
At first, we shipped 10,000th unit of Die-casting Machine in February. At this time, I would like to express my heartfelt appreciation for your many years of strong supports. We started production of Die-casting Machines with 80-ton model in 1963 under the concept of 'developing die-casting machines sought-after by customers', and now we have an extensive lineup of BD-V6 EX series: from 80-ton, which was newly added last year, to 1250-ton in clamping force. For further operator-friendliness, the BD-V6 EX series is equipped with the multi-injection system and the highly robust die clamping mechanism in addition to time-proven microcomputer control system.
Next, we completed a new sheet-metal processing factory building with latest equipment installed. This new facility has boosted our production efficiency as well as capability.
Third, we participated in the International Plastic Fair 2017 (IPF 2017) with a theme "SMART MOLDING - to new dimension of quality with molding machines controllable and accessible wherever you are -." At the show, we demonstrated our innovative Plastic Injection Molding Machines and technologies including a new model Si-450-6S, gas-suppressing 'SAG+αⅡ' system, servomotor-driven unscrewing system on a two-color molding machine, CERTP (carbon fiber reinforced thermoplastic) insert molding on a vertical molding machine, and our approach to IoT.
The new year 2018 is the time when we crop the fruit of our mid-term management plan 'TOYO-330' where we have strengthened our global sales force, value of products and production capabilities. We will further bolster our corporate power so that we can meet customers' requirements with complete satisfaction. In addition, we will expand our business while maintaining thorough 'quality control' drawing a lesson from misconducts by well-known companies, which created sensational headlines in Japan last year. We at Toyo, a leading manufacturer of Plastics Injection Molding Machines and Die-casting Machines, starts a new fiscal year in April by initiating a new mid-term management plan with an aim of becoming further reliable and expected by all of our stakeholders.
As a dependable partner at your production site, we are determined to continue, in this new year too, to deliver products and technologies sought by each customer. We hope you could render us warm supports as ever.
We wish you happiness and continued prosperity for the new year of 2018.