TOYO Achieves Accumulative Shipments of 10,000 Die-casting Machines
 April 3, 2017
Toyo Machinery & Metal Co., Ltd. (Headquarters: Akashi-city, Hyogo-pref., Japan; President: Kazunori Sogame, hereinafter called "Toyo") has achieved accumulative shipments of 10,000 Die-casting Machines.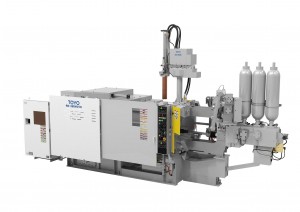 The Die-casting Machine is a machine to produce products by injecting molten metals such as aluminum, zinc and magnesium into dies, and then cooling them for solidification in the die before they are taken out. The Die-casting machine is applicable to mass production of a variety of products such as automobile parts, building material, parts for home electric appliances, chassis of PC and cell phones, and toys.
Ever since Toyo shipped its very first 80-ton hydraulic model in 1963, Toyo, one of representative Die-casting Machine producers in Japan, has been seeking after the Die-casting Machine contributing to customers over half a century, and shipped a landmark 10,000th Die-casting Machine in February this year. Though Toyo may have had an impression of a producer of small machines for many years; it actually has had a high reputation even in the field of middle and large-sized machines in these years. Toyo now produces a 1250-ton Die-casting Machine as its largest model.
In 1978, Toyo launched a hydraulic type Die-Casting Machine with a new injection system under a renewed motto of "Developing machines sought-after by customers," which has been inherited to the present day. And now, the Die-casting Machine has grown to be Toyo's one of main products, having many advantageous features including high rigidity die clamping device with the center-press die-clamping structure, and the multi-injection system.
In the second half of the 1980s, Toyo started to employ a microprocessor control first in the world, and it greatly improved operation stability, data collecting and production management capability. And the latest SYSTEM600 has realized remote machine control. Toyo's control system has always contributed to the quality of casting products and laborsaving.
Besides the Die-casting Machine itself, Toyo has been developing its unique ancillary automation equipment and operation monitoring program, and proposing a highly efficient total casting system with its own devices to cope with increased production at customers.
In addition, in collaboration with the academic sector, Toyo has been actively engaged in the research work to produce even higher quality products, and established a direct temperature monitoring method of the melt in the die and a quality verification method of the castings.
Furthermore, Toyo put fully electric servo-driven Die-casting Machines in the marketplace first in the world, which is highly energy-efficient and environmentally-friendly, so that we can pass down the earth in better environment to the next generation. With this electric servo technology, Toyo was awarded the 8th Economy, Trade and Industry Ministry's Award in 2011 for having developed an energy-saving, compact, low-pressure die-casting system. Toyo is proud that this award was presented for the role Toyo played together with customers in reaching a solution to a given task, with its spirit since company foundation, "Treasure relationships with our customers, and share prosperity with them."
Toyo continues to contribute to the development of the die-casting industry by ceaselessly keeping on sophisticating our technology that is helpful to customers under the flag of "Customer's Value Up," or "Increasing Value of Customers' Products."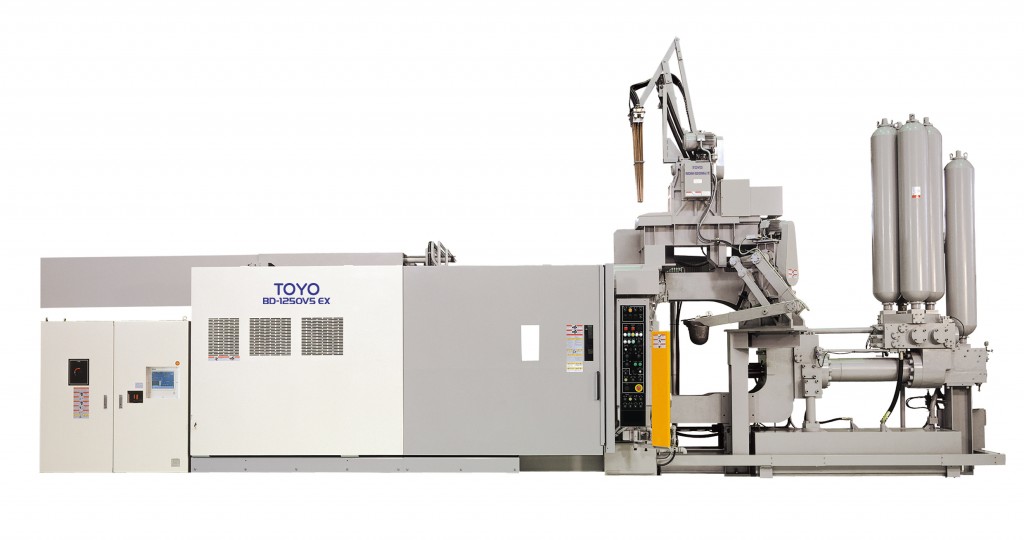 Please be noted that the article on this website is based on the information as of the date of posting.
The information may be different depending on the date of your access.